Editor's note: The remembrance below was published on March 27, 2017. Click here to read more about Porter Byrum's concluding act of extraordinary generosity – a bequest of more than $140 million to Wake Forest University, Queens University of Charlotte and Wingate University for scholarships. Wake Forest received approximately half of his bequest, more than $70 million, which is now the largest gift in the University's history and brought his lifetime giving to Wake Forest to more than $120 million.
Porter B. Byrum (JD '42), an attorney, businessman and philanthropist from Charlotte, N.C., passed away on March 27, 2017. He was 96.
No person has been a more generous benefactor to Wake Forest than Byrum, whose lifetime giving has totaled more than $50 million. In 2011, he donated to Wake Forest $40 million, the largest gift in the institution's history, with the sale of the Park Road Shopping Center in Charlotte. His generosity spanned the course of decades, and because of him, hundreds of students were afforded the same opportunity for a quality Wake Forest education that he had.
"Wake Forest has lost a loyal friend in Porter Byrum," said Wake Forest President Nathan O. Hatch. "His generosity demonstrates his belief that perseverance can overcome seemingly insurmountable obstacles, that education equals opportunity, and that helping others is the key to a meaningful and well-lived life. Julie and I have also lost a dear friend, who we came to know and love over a number of years. We will miss him greatly and will cherish the memories of our wonderful times together."
To follow Byrum's personal history is to journey with a member of the "Greatest Generation." One of five sons who grew up in a minister's home during the Depression, he received scholarship assistance to attend college and law school at Wake Forest College, then located near Raleigh, which he viewed as the transformational event of his life. After earning his degree in 1942, he was sent to Europe with the Army, where he fought under General George Patton in the Battle of the Bulge. After trudging across Germany in the snow, Byrum was among those with the task of liberating the Buchenwald concentration camp. His service continued in Korea, where he was part of the U.S. military government after the Japanese were expelled.
When he returned from the battlefield to Charlotte in the early 1950s, he made a living as an attorney solving problems creatively and seeking solutions that assisted his clients with smart business deals. For 60 years, Byrum practiced law in the way he thought best and allocated time to projects of his own choosing. He never charged an hourly fee; billing was dependent on the actual help he offered. Work was not driven by money; for Byrum, his purpose was to make a difference helping others in the spirit of Pro Humanitate – a lesson he learned from his father, Wake Forest alumnus, and his own time at the University.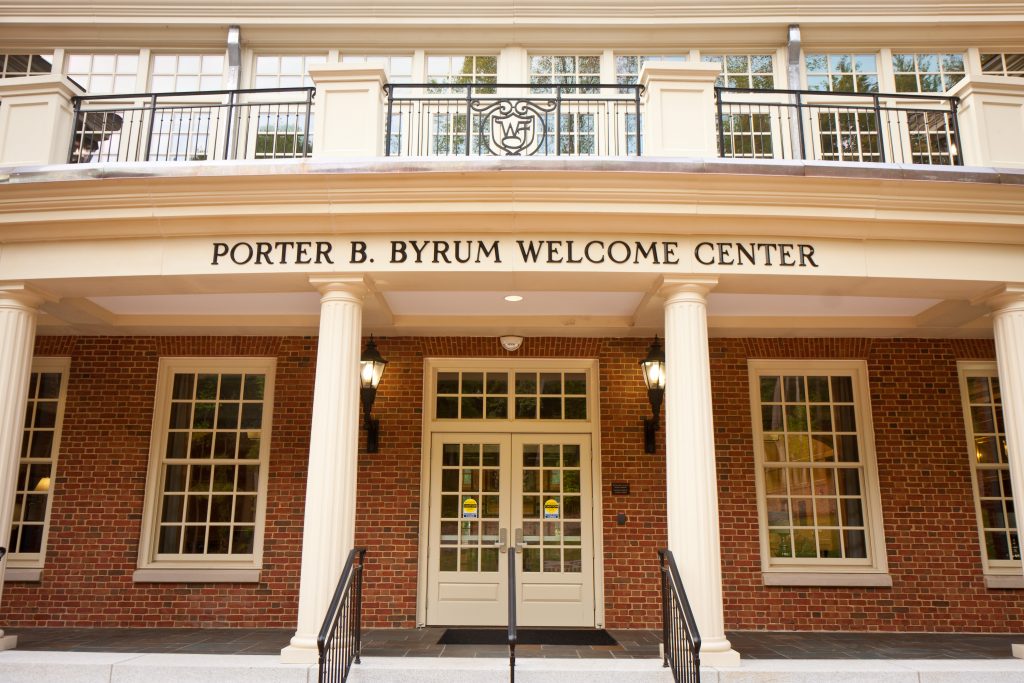 One of his earliest projects was the Park Road Shopping Center, the first open-air shopping center developed in Charlotte. In 1967, he purchased the center and actively managed it until 2011, when he gave it to Wake Forest University, Wingate University and Queens University of Charlotte.
Another early client needed help closing the purchase of some aircraft equipment with the government. In Byrum's assessment, the deal was a good one, and he invested some of his own money into it. This started his 50-year association with Charlotte Aircraft Corporation and his global travels dealing in airplanes.
These two projects largely defined his career. However, his approach to his work defined his character. Never distracted by success, he remained steadfast in his purpose and his unwavering commitment to his principles, friends and colleagues.
"With what must have been an insatiable curiosity, with a vision that enabled him to look around him and find promising opportunities, with a shrewd understanding of men and markets, with the manifold talents of what we might today call an entrepreneur…Porter achieved success," said Provost Emeritus Edwin Wilson. "Success in no way led to ostentation."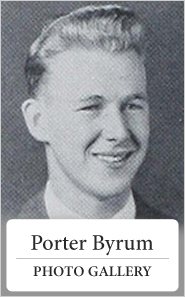 Aside from his professional career, he gave time to his alma mater. At Wake Forest, Byrum was a member of the Law Board of Visitors, a recipient of the Carroll Weathers Award – the Law School's highest honor – and a recipient of the Distinguished Alumni Award.
In 2001, he established the Porter B. Byrum Athletic Scholarship and in 2007, he created the Porter B. Byrum Scholarship to provide scholarships for undergraduate students. He also set up a law scholarship in 1993, the John Thomas Byrum Scholarship, to honor his father – the man who championed education and lived to see all five of his sons earn their undergraduate degrees.
Hundreds of Wake Forest students have received scholarships funded by Byrum.
Wake Forest's admissions and welcome center was named for Byrum in 2011 and his portrait hangs near the entranceway. Wilson described the Porter B. Byrum Welcome Center as the "front porch" of the University.
In 2014, Byrum spent an afternoon at Wake Forest meeting and speaking with students who he supported through his scholarships.
"I had the fortune of hearing him speak on campus," said Jaime Fashimpaur ('18). "His words inspired me… I would not have been able to come to my dream school if it were not for his selfless generosity."
Heather Sullivan ('16) agreed. Also a scholarship recipient, her dream is to "some day be able to provide the opportunities to other students that he has provided to me."
A firm believer in education and strengthening his community, Byrum has an elementary school, a middle school and a high school in Union County, N.C., named partially for him. He was also a generous supporter of Queens College and Wingate University.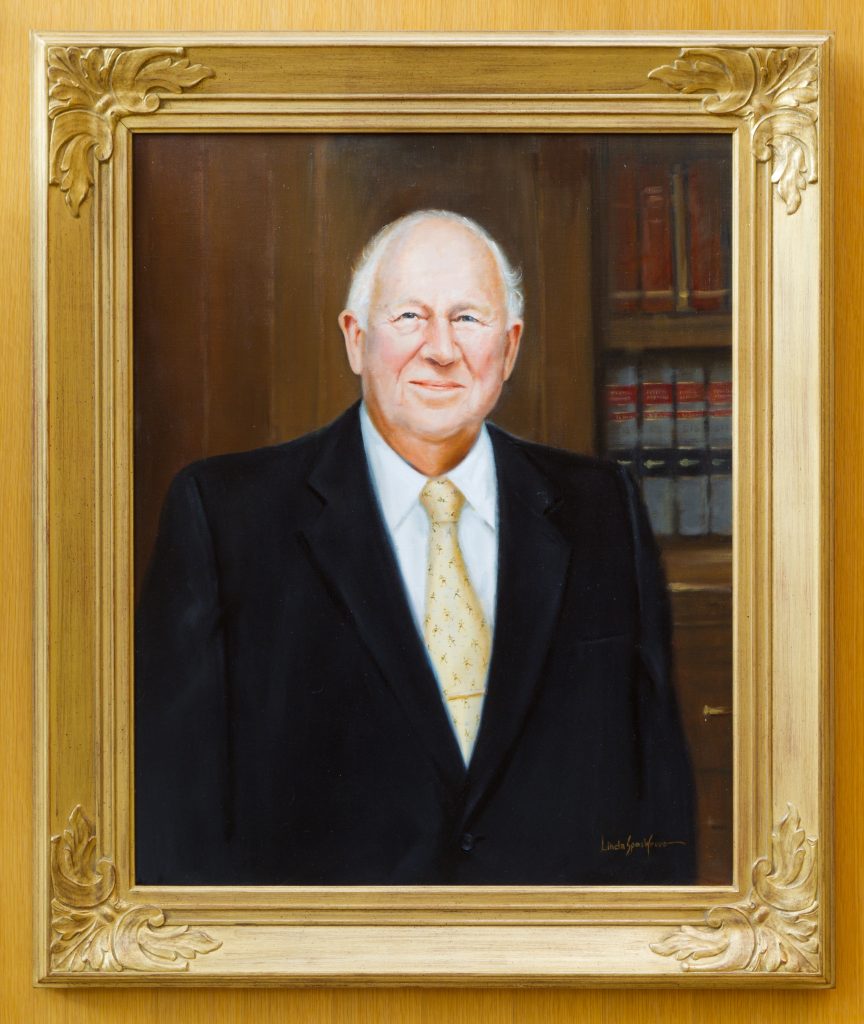 Porter Byrum's portrait hangs in the Byrum Welcome Center.
Byrum is survived by longtime friend, Grace Thomas, and his nieces and nephews and their families.
In 2016, Wake Forest planted Grace's Garden in honor of Thomas. The garden is located at the entrance to the Porter Byrum Welcome Center and filled with Wake Forest roses.
In a 2011 Charlotte Observer editorial, President Hatch wrote, "[Porter Byrum] will forever be remembered at Wake Forest University as a loyal friend, grateful for the gift of education and committed to granting young people the opportunity that he was given so many years ago. His legacy lives in the lives of the next generation of leaders."
Gifts in memory of Mr. Byrum may be made to Wake Forest University here.